Conveying technology for glass container manufacturers
For glass container manufacturers we offer innovative turn-key solutions for the cold end. We provide you with support as a direct supplier, offering fast lead-times and the choice of complex conveyor technology systems or individual plants with an attractive price-performance ratio.
How you benefit with us
Profitable
DMA material handling technology offers you higher productivity and availability, together with potential savings in personnel costs.
Perfekt durchdacht
Unsere Experten planen optimale Layouts für Sie mit sauberen Produktionsabläufen und professioneller Schnittstellenanbindung.
Absolute process reliability
First class products guarantee that your production runs: 24/7, 365 days a year – over decades.
Cleverly invested
Quality pays off through lower maintenance requirements, professional repairs, simple spare part deliveries.
Flexible integration
Every production facility is different and every requirement varies. DMA material handling systems are a perfect fit for your individual circumstances.
                                                                                                                                                                                                                                                                              Do you have any questions? Contact us!
Our solutions for glass container manufacturers
Linear rinser
For cleaning glass products, PET bottles and cans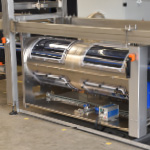 The high-performance linear rinser is used in the most diverse areas of the filling industry. It turns glass, PET bottles and cans through 180 degrees with a continuous material flow, thereby facilitating optimum and rapid cleaning from inside. The products are cleaned using a choice of filtered, ionized air, steam or water and prepared for the filling stage. In addition to rinsing it is simultaneously possible to bridge height differences on the production line.
Especially hygienic
Optimum product cleaning
Variable width settings
Manual tensioning station for the pusher chain
Low maintenance requirements
Flexible plant planning
Know-how meets quality – our expertise for you
Tell us your requirements and our experts will plan everything for you – down to the smallest detail. Carefully and with foresight, so you are optimally equipped for success:
For consulting, planning, dealing with suppliers, direct delivery, support choose our all-round carefree package  Service-Package.
Complex system or single plant – DMA products can be put together like a modular system and continuously expanded.
Our company offers excellent references and will only submit quotations that we can honour.