Coveying technology for food and beverages
Do you need to quickly transport products from A to B? Manufacturers of food and beverages depend on DMA quality for this. Whether it's the HELIFLEX storage system, slat band chain conveyor systems, feed and discharge belts, stacked crate storage system or tailor-made special design – our innovative plants are optimally aligned with your requirements.  Other additional benefits: DMA material handling systems have a long service life and very low maintenance requirements

How you benefit with us
Profitable
For you and your company automation means a high level of process reliability, increased productivity and smooth workflows.
Hygienic
With our material handling systems you will easily meet even the strictest hygiene requirements. Your production line is neatly set up and is extremely easy to clean.
Versatile
Whether medium-sized company or industrial concern – we are familiar with any order of magnitude. Our solutions for you are always tailor-made.
Expandable
Is your company growing? Wonderful! DMA products are designed so you can expand and enlarge them at any time – at extremely cost-effective prices.
Do you have any questions? Contact us!
Our solutions for food and beverages
HELIFLEX Storage System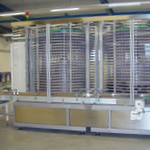 To increase product line efficiency, it is necessary to intercept system-bound faults. By using the HELIFLEX Storage System, the effectiveness of an entire production line can be increased by 5% to 20%. The system independently identifies process faults and fully automatically stores the products. Once the fault has been rectified the intermediately stored units are synchronised back into ongoing production.
                                                                                                                                                Heliflex Continuous Flow Cooler
Fast and uniform cooling of warm filled products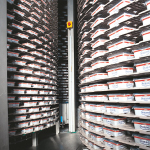 In the DMA HELIFLEX Continuous Flow Cooler products are rapidly and uniformly cooled to the desired temperature after filling. In the process they are transported in an upward and downward travelling tower on a special endless chain. The cooled products can then be immediately boxed, palletised and stored or dispatched. The efficient cooling process not only saves energy and time, it also has a positive effect on the taste, quality and shelf life of the products.
Energy-efficient cooling
Process reliability at high product volume
Variable features relating to chain width
 
Stop and start possible at any time
Demand-driven manufacture
Simple Integration
Flat-top chain conveying systems
Fast and uniform cooling of warm filled products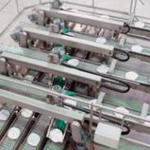 The products conveyed on the four arriving lines must be transferred optionally to four outgoing lines. Every product supplying line can be linked to every product outgoing line.
                                                                                                                                                 Vertical conveyors
Delivers products to a new height level safely, quickly and in a space-saving manner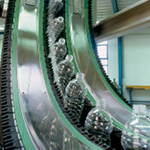 DMA vertical conveyors are used to overcome height differences on production lines. Our pusher chains allow the transport of both narrow bottles, jars and cans as well as wide containers such as crates and boxes. Moreover, DMA vertical conveyors can easily cope with product weights of up to 40 kg and height differences of up to 12 metres. Vertical conveyors gently and quietly raise and lower the products in a continuous material flow.
Especially hygienic
Food grade
Gentle on materials
Continuous sequencing
Low maintenance requirements
Flexible integration
                                                                                                                                                Stacked crate storage system
Space-saving storage and optimum feeding of the production line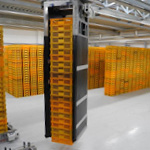 DMA stacked crate storage systems allow the space-saving storage of up to 60,000 crates, thereby facilitating the optimum use of space. Fully automatic crate transportation, without manual intervention, from the return station through to order picking guarantees the optimum feed of crates to the production lines. Cleaned crates are transported directly to production. In the event of over supply crates are held in storage, while additional crates can be quickly fed into the production line from the stacked storage system in the event of under supply.
Especially hygienic
Space-saving
In-process reliability
Energy-efficient storage
Low maintenance requirements
Easy expandability
Feeder and discharge belts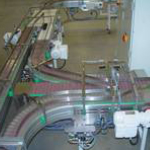 When there are faults in the packaging area, the products are diverted from the main line through the small roller conveying systems and fed to the HELIFLEX storage system. After the fault is eliminated, the units are rolled out of storage and fed to the main line. They are synchronously fed into gaps in ongoing production while avoiding collisions.



Combining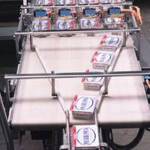 The arriving multi-lane product lines are combined to one line.





Special constructions
We would be pleased to demonstrate our flexibility and comprehensive expertise during the design and construction of individually customised special plants. For instance, the plant shown here rotates blocks of cheese through 180 degrees in order to orient the weld seam upwards, as required for subsequent steps in the production process.
                                                                                                                    Know-how meets quality – our expertise for you
Tell us your requirements and our experts will plan everything for you – down to the smallest detail. Carefully and with foresight, so you are optimally equipped for success:
For consulting, planning, dealing with suppliers, direct delivery, support choose our all-round carefree package Service-Package.
Complex system or single plant – DMA products can be put together like a modular system and continuously expanded.
Our company offers excellent references and will only submit quotations that we can honour.