Stacked crate storage system
Space-saving storage and optimum feeding of the production line
DMA stacked crate storage systems allow the space-saving storage of up to 60,000 crates, thereby facilitating the optimum use of space. Fully automatic crate transportation, without manual intervention, from the return station through to order picking guarantees the optimum feed of crates to the production lines: Cleaned crates are transported directly to production. In the event of over supply crates are held in storage, while additional crates can be quickly fed into the production line from the stacked storage system in the event of under supply.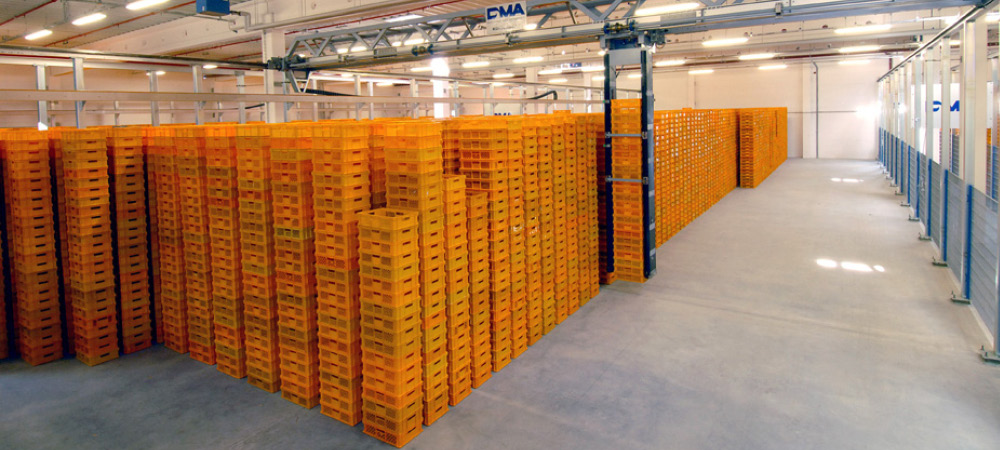 Thought through down to the last detail – features overview:
Especially hygienic
When empty, the crate storage area is completely free of material handling equipment and other items, which means it is very easy to clean.
Space-saving
High storage density: The DMA stacked crate storage system guarantees optimum space utilization.
In-process reliability
The in-company crate logistics and storage system ensure processes consistency.
Energy-efficient storage
This results from the low-power drives: Only three drive motors for the X, Y and Z axes are required, plus one for rotating the Z axis.
Lower maintenance requirements
DMA vertical conveyors can be integrated into existing plants in a particularly flexible manner and are expandable with modules such as conveyor bridges and turning units.
Easy expandability
Only the side running strips need to be extended
DMA stacked crate storage systems in detail
DMA stacked crate storage systems in detail
Fully automatic crate transport
Optimum feed to the production lines
Very high technical efficiency
Low overall operating costs
High energy efficiency
Low floor loading
Pre-selectable assignment of the stacked crate storage system
Very good hygienic conditions
High storage density
DMA service for smooth integration
On request we will equip your vertical conveyor with the following additional functions:
Consulting, project planning, design
Complete installation (mechanical, electrical)
Integration of upstream and downstream plants
Turnkey handover
Fully equipped with controller and interfaces
Employee training
Commissioning
Technical specifications
Max. 5 m ceiling height
3,650 mm stacking height
Max. room width 16 m
19 crate stacking rows (transverse)
clearance between the rows 180 mm
Putaway and pick performance
Approx. 130 stacks/h
Storage capacity
Approx. 6,000 to 60,000 crates
Floor load
Approx. 150 kg/m² (with 26 crates at 1.3 kg per crate)