Conveying technology for bread and bakery products
Whether craft or industrial bakery – our solutions are always tailor-made for you. DMA material handling systems for bread and bakery products, racks, crates and pallets improve your productivity, create space for additional ovens and reduce material wear.
The benefits of DMA solutions to you
Profitable
For you and your bakery automation means improved productivity, smooth workflows and savings – in both time and personnel costs.
Clean
With our material handling systems you will easily meet even the strictest hygiene requirements. Your production line is neatly set up and is extremely easy to clean.
Careful
The automatic transportation of your crates protects materials, reduces wear and lowers the noise level.
Space-saving
DMA material handling systems optimally transport, stack and store your crates. Your benefit: Greater storage density, space for additional ovens, empty working spaces.
Conveying technology for bread and bakery products
Stacked crate storage system
Space-saving storage and optimum feeding of the production line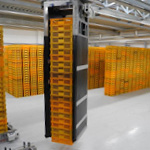 DMA stacked crate storage systems allow the space-saving storage of up to 60,000 crates, thereby facilitating the optimum use of space. Fully automatic crate transportation, without manual intervention, from the return station through to order picking guarantees the optimum feed of crates to the production lines. Cleaned crates are transported directly to production. In the event of over supply crates are held in storage, while additional crates can be quickly fed into the production line from the stacked storage system in the event of under supply.
Especially hygienic
Space-saving
In-process reliability
Energy-efficient storage
Low maintenance requirements
Easy expandability
Vertical conveyors
Delivers products to a new height level safely, quickly and in a space-saving manner!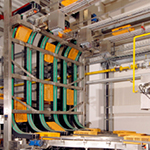 DMA vertical conveyors are used to overcome height differences on production lines. Our pusher chains allow the transport of both narrow bottles, jars and cansas well as wide containers such as crates and boxes. Moreover, DMA vertical conveyors can easily cope with product weights of up to 40 kg and height differences of up to 12 metres. Vertical conveyors gently and quietly raise and lower the products in a continuous material flow.
Besonders hygienisch
Lebensmittelsicher
Materialschonend
Durchgehende Taktung
Geringer Wartungsbedarf
Flexible Integration
Learn more
Know-how meets quality – our expertise for you
Tell us your requirements and our experts will plan everything for you – down to the smallest detail. Carefully and with foresight, so you are optimally equipped for success:
For consulting, planning, dealing with suppliers, direct delivery, support choose our all-round carefree package Service-Package.
Complex system or single plant – DMA products can be put together like a modular system and continuously expanded.
Our company offers excellent references and will only submit quotations that we can honour.